How can we promote meaningful conversation between patients with multiple chronic conditions (MCCs) and their caregivers in order to improve quality health support?
One in four Americans (almost 62 million) live with more than one chronic condition. Adding a health condition not only increases the cost of healthcare system, but also requires more from their personal and financial life since that they have to adapt to an intense medical routine. Consumed by the challenges of a new diagnosis, patients feel overwhelmed and need support and guidance; however, the healthcare system provides more attention in the relationship between patients and doctors, but most of the time they are with supporters. So how might we foster this support for patients with MCCs?
THE USER

We focused our research on adult millennials who were recently diagnosed with their second chronic condition. We considered them an extreme case because they are dealing with many tasks such as beginning their families, careers, and studies, as well as managing an intense medical routine that a second condition requires. We thought that dealing with health problems at early age might help them age with more resources, and it could also affect other young people around them.
We found that the top five chronic conditions are related to lifestyle and can be treated by modifying habits:
•Modifiable health risks were associated with 25.4% of health care costs ($2,598/person) among employees with just one medical condition; poor care decisions have a major impact on our system.
•Caregiver's support has the potential to improve health and well-being of patients. They increase treatment adherence, engage in better self-care, manage better emotional through these support alliances;
•Most millennials rely on their supporters to make decisions about their health;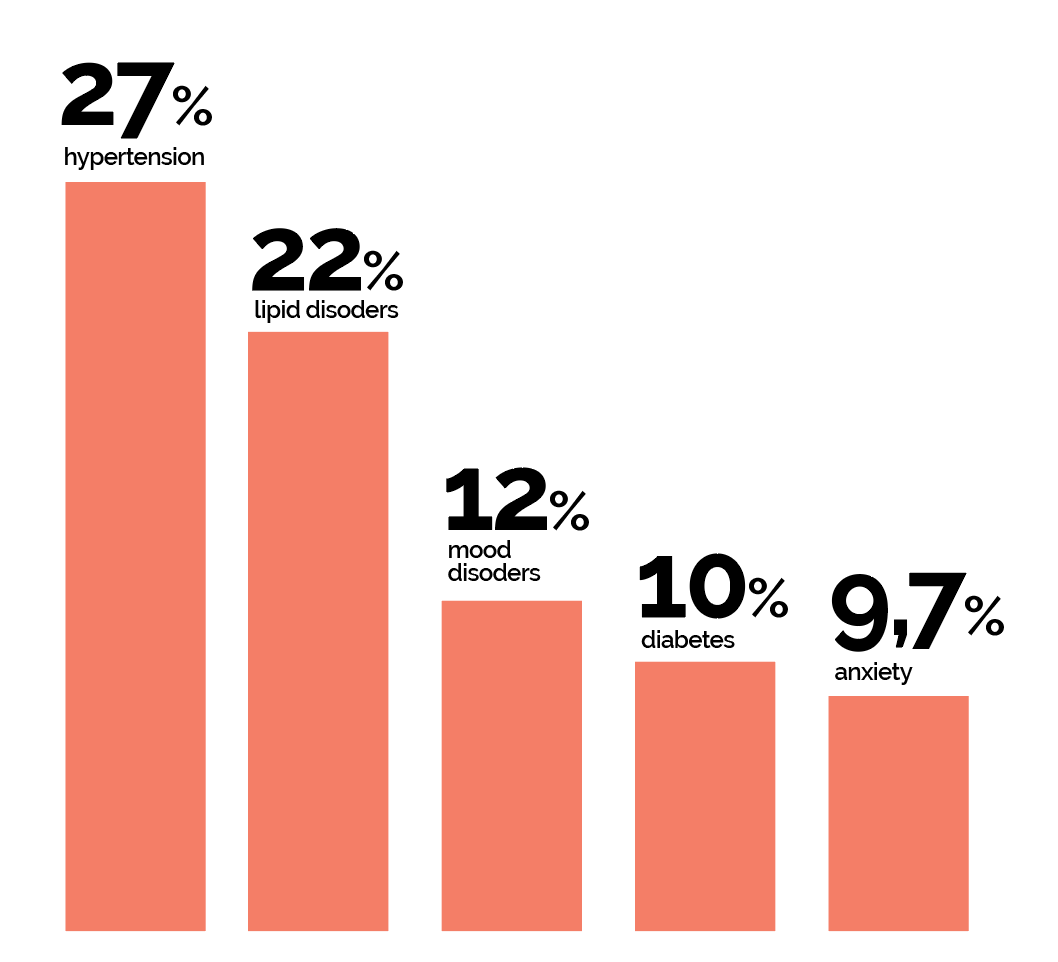 RESEARCH FOCUS

We interviewed patients, supporters, health researchers, and experts to observe these patients' journeys in order to understand their challenges and needs when they faced a second condition diagnosis.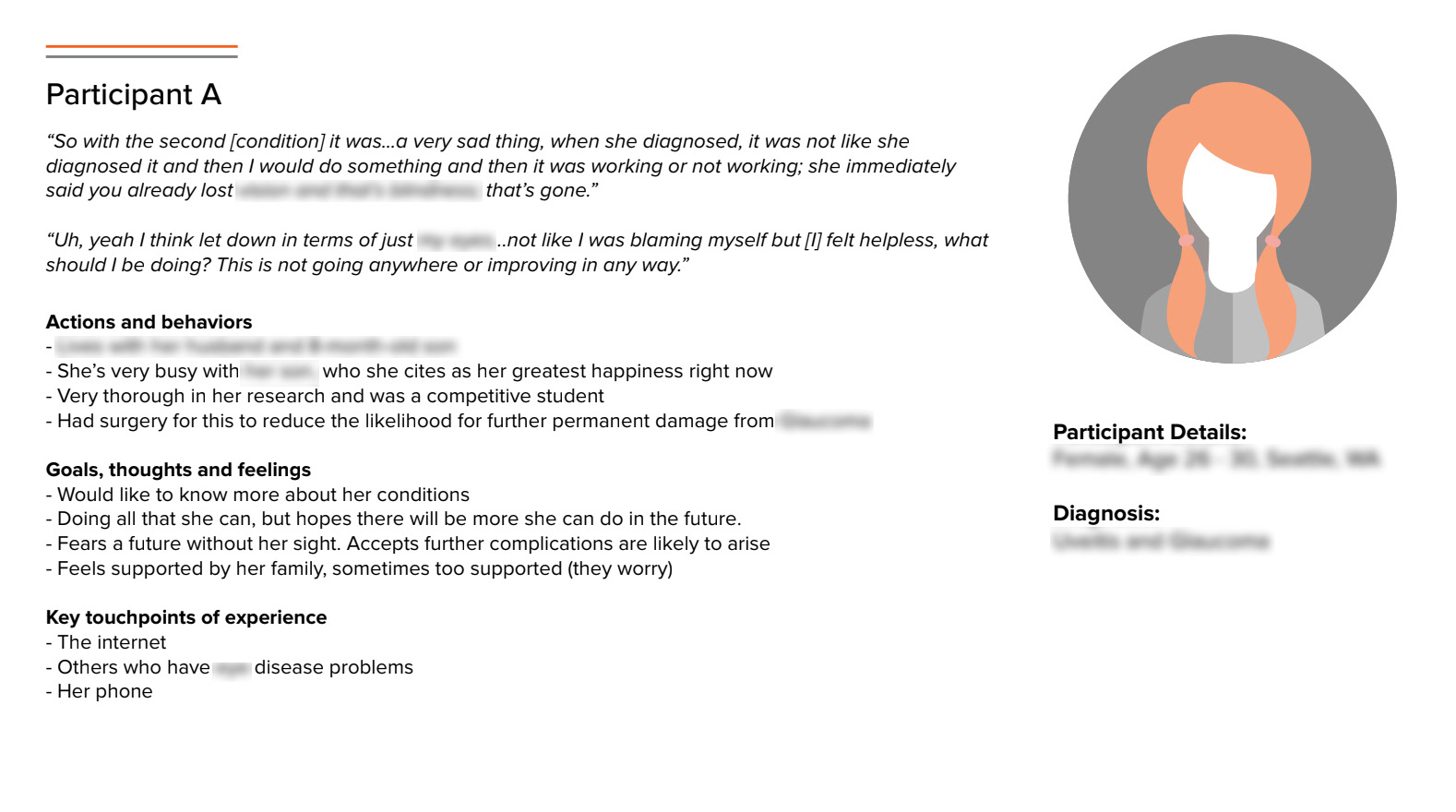 Analyzing verbatim notes from our interviews, we grouped common themes in clusters.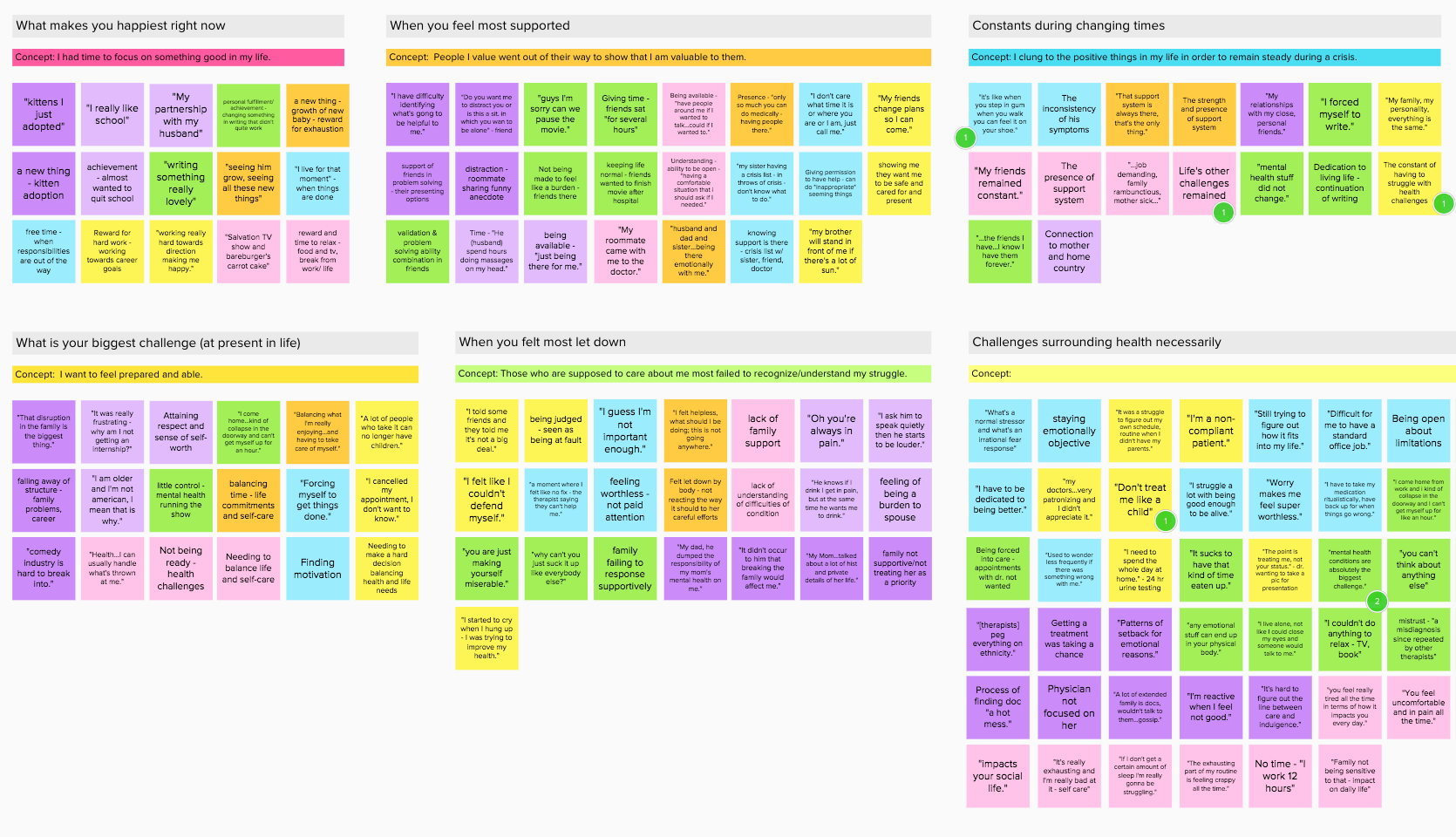 During interviews with these patients, supporters, health researchers, and experts, we found that despite differences in conditions or care, patients newly diagnosed with a chronic condition valued quality support most. Without support, patients can feel overwhelmed with the consuming challenges of a new diagnosis and feel powerless, overwhelmed, unprepared, and deeply alone, even when surrounded by loved ones. We also found that conversations is the way that the can get support and our key findings: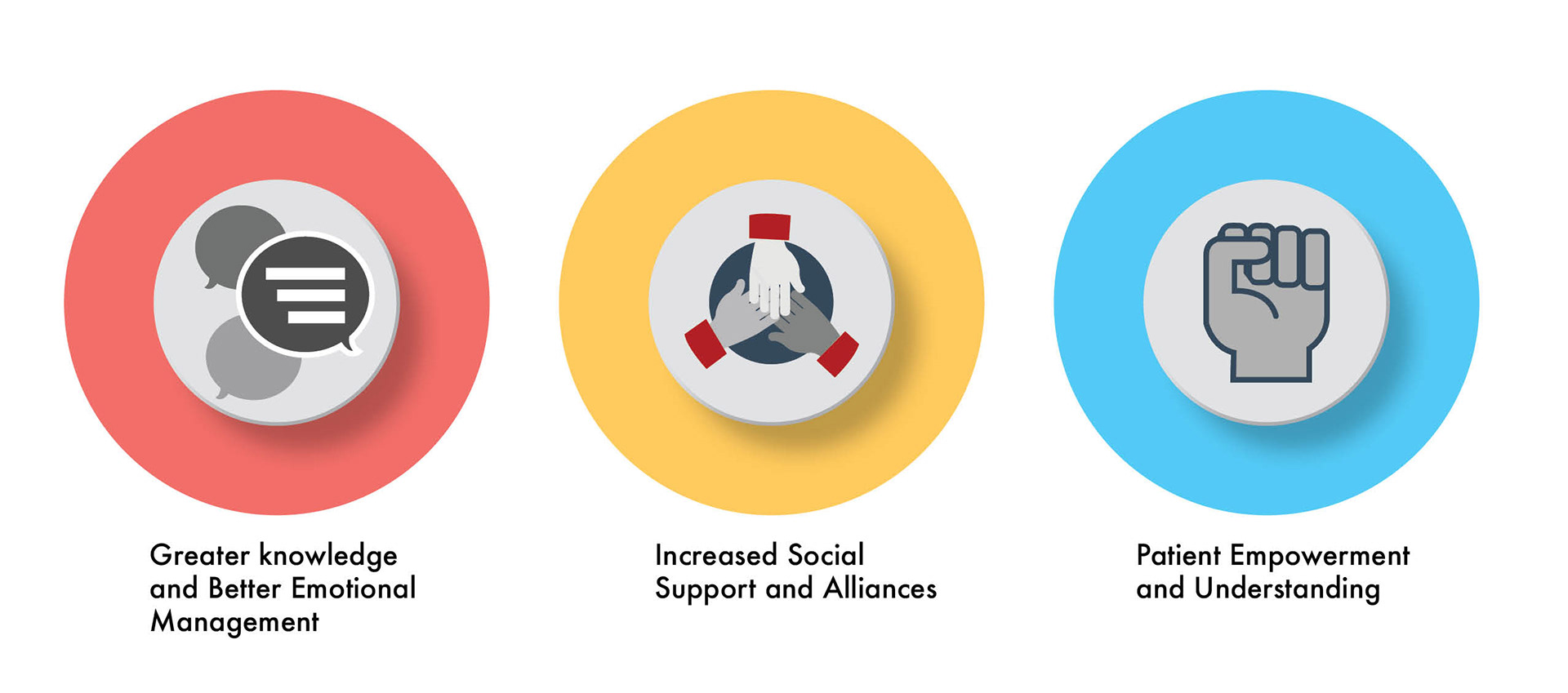 During our research we found that even if patients and supporters are close, they often did not know what kind of help they need or how to ask for it, so quality support does not happen. So how might we promote meaningful conversation between patients and caregivers for improving support and health? We did a second round of interviews to understand how might we help these conversations to allow for quality support.
2º ROUND OF INTERVIEWS

In order to understand which offers of help were most important to patients, we created a card-sorting exercise to see how users would prioritize types of health support. We learned not only how patients seek help in managing their routine, but also the challenges they face in solving problems together and finding empathy.
We also did a survey to test our findings and validate our hypotheses in a larger audience.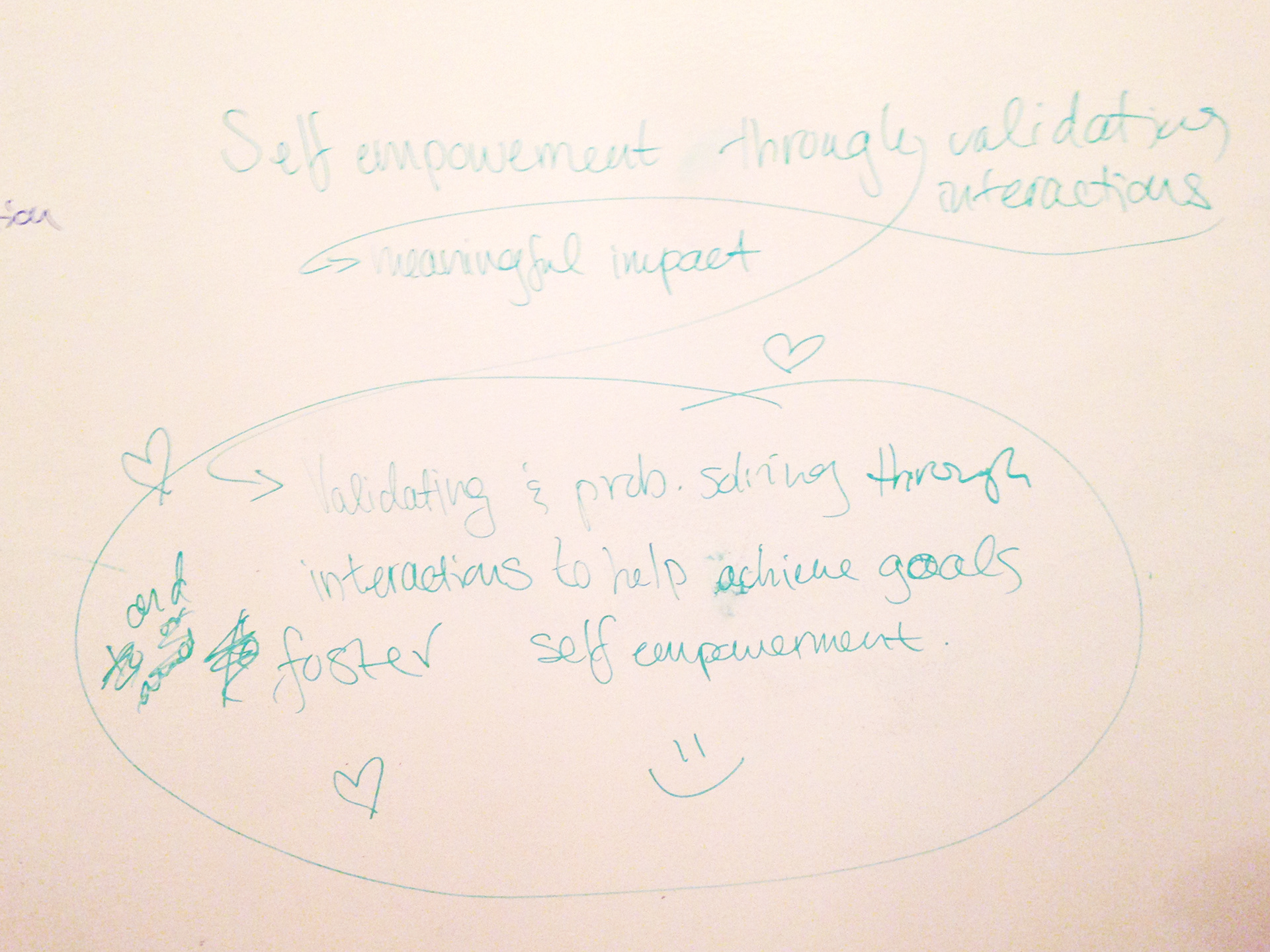 We created Reflect, a digital card game that brings people together to have light and meaningful conversation to better support and strengthen relationships. Participants choose a theme that helps them address topics they don't know how to introduce. It also facilitates mutual understanding. Engaging partner support in care conversations equips patients to make the best health decisions and work together in facing challenges.
1. Like a board card game, Reflect brings people together.
2. Participants shuffle the cards and pick up a theme that would like to talk.
3. Each one chooses two cards, one to answer and the other to share with partner.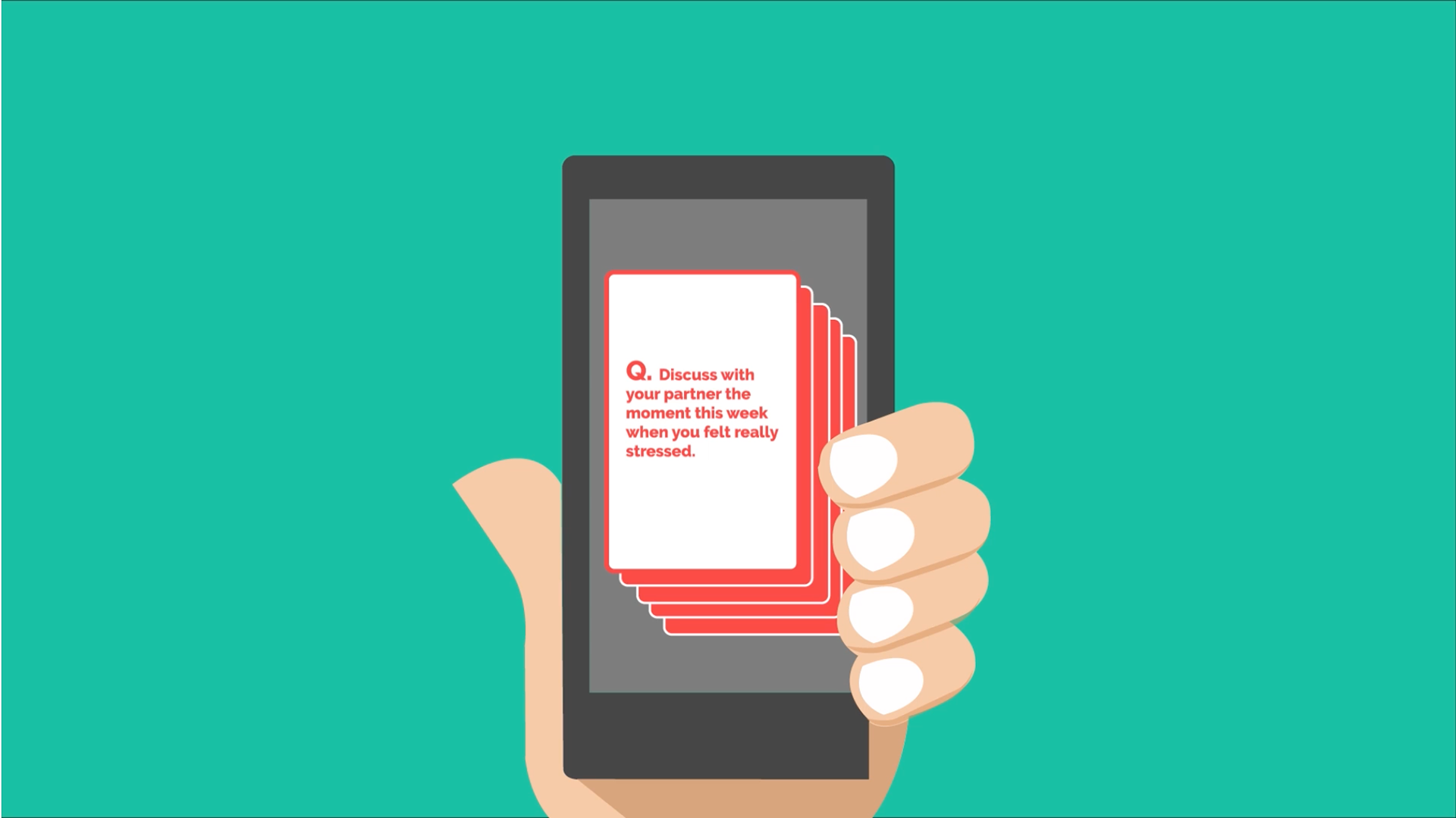 4. They reflect on their questions and when they feel ready, they start a conversation.
5. At the end of a round, they can add notes or reminder from their learnings in the app.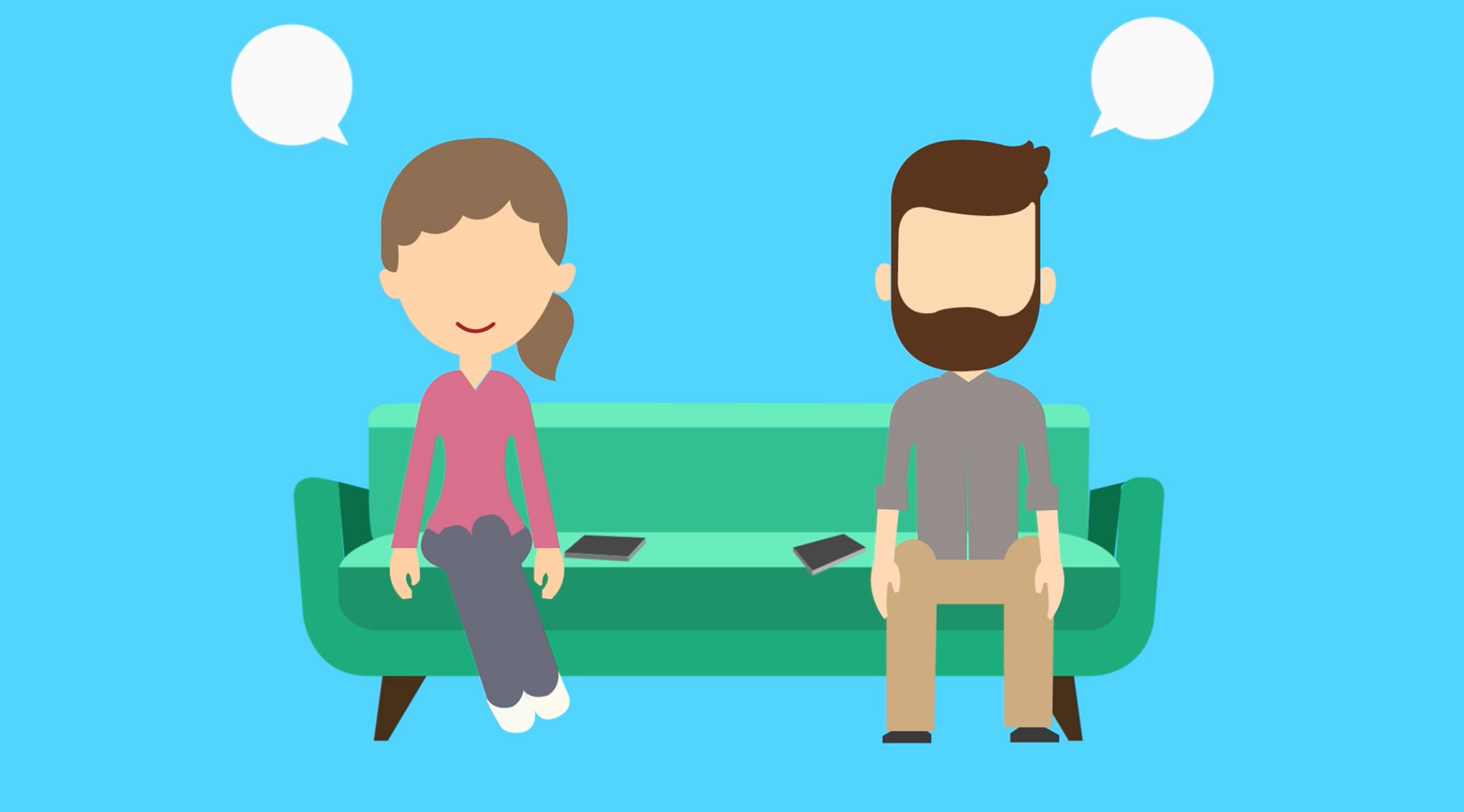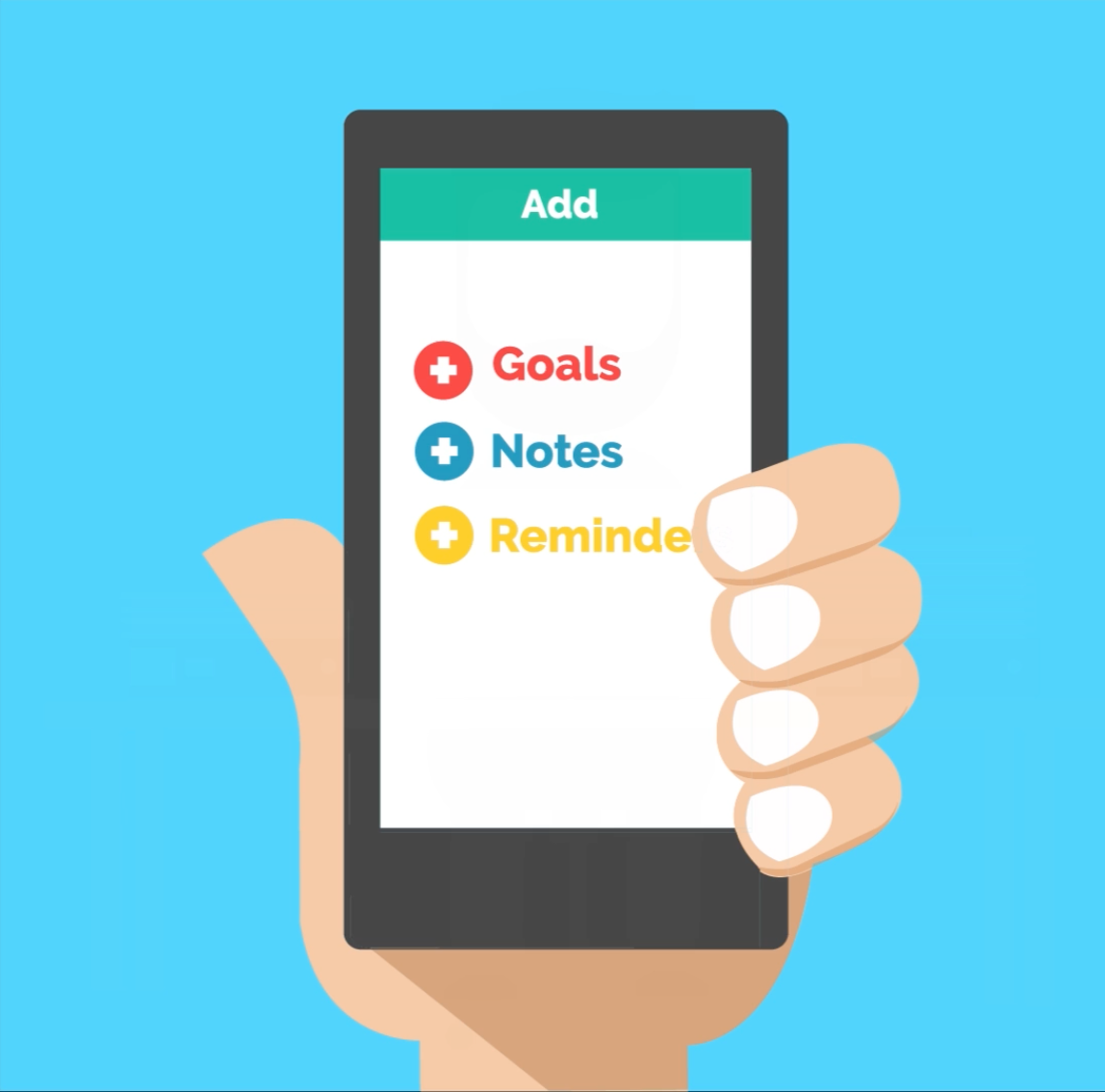 We wanted to understand the user's thoughts, feelings, and actions in the five stages of using products to better design their experience; therefore, it helped us to define the user flow and interactions.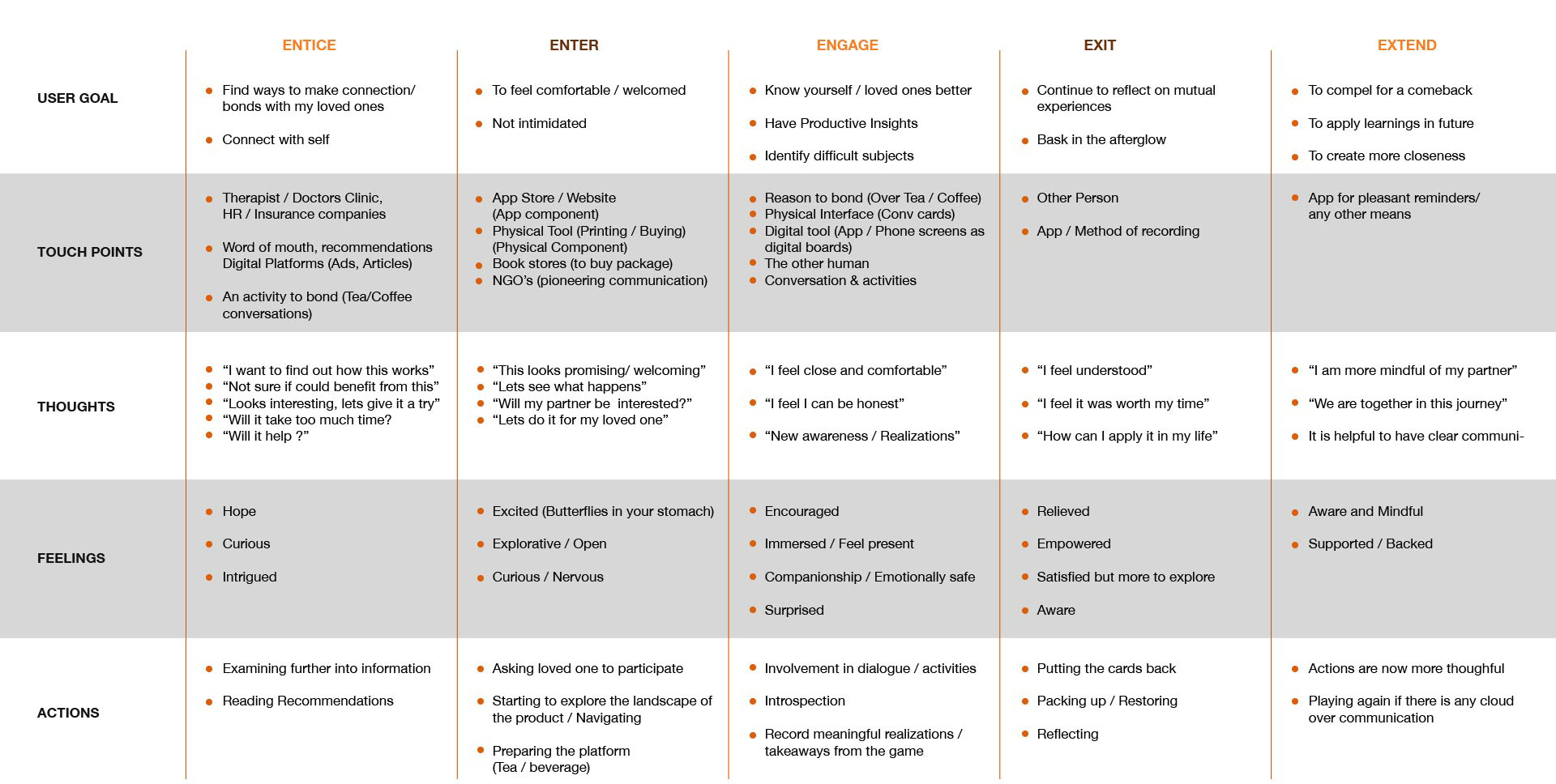 Thinking about our product, we decided to work on at least three categories of innovation.

• There are 15 million millennials with MCCs, but we believe that Reflect is a tool that can be used by all 62 million with MCCs.
• Reflect could provide a base for research about patients with MCCs and their supporters, by collecting users' data.
In 1st stage, we will need a short-term team of 8 people and ONE consultancy to build the base mobile, website, and paper cards.  The digital and analog products would be released to a select group of users for a period of 6 months for testing and research. In 2nd stage, 1 year later, we will release the full experience more broadly.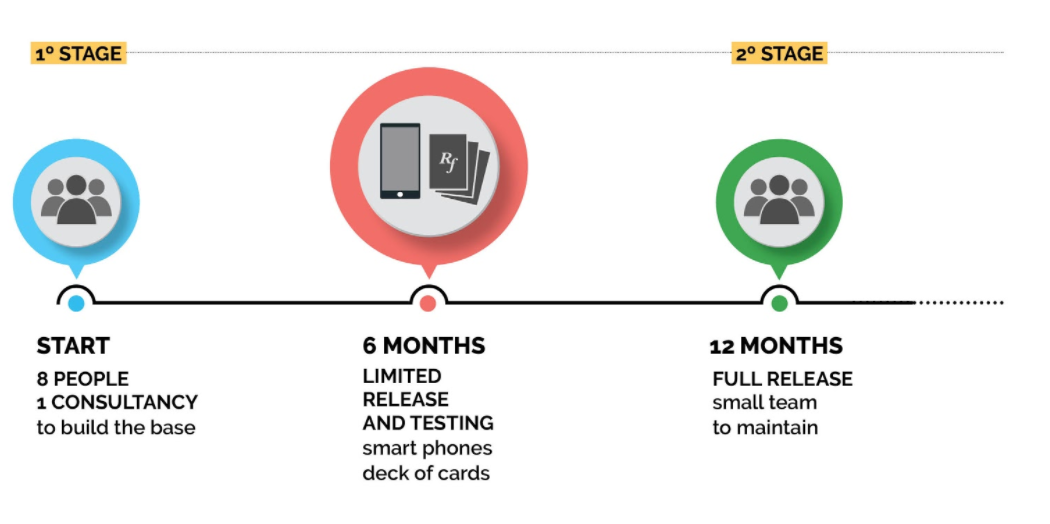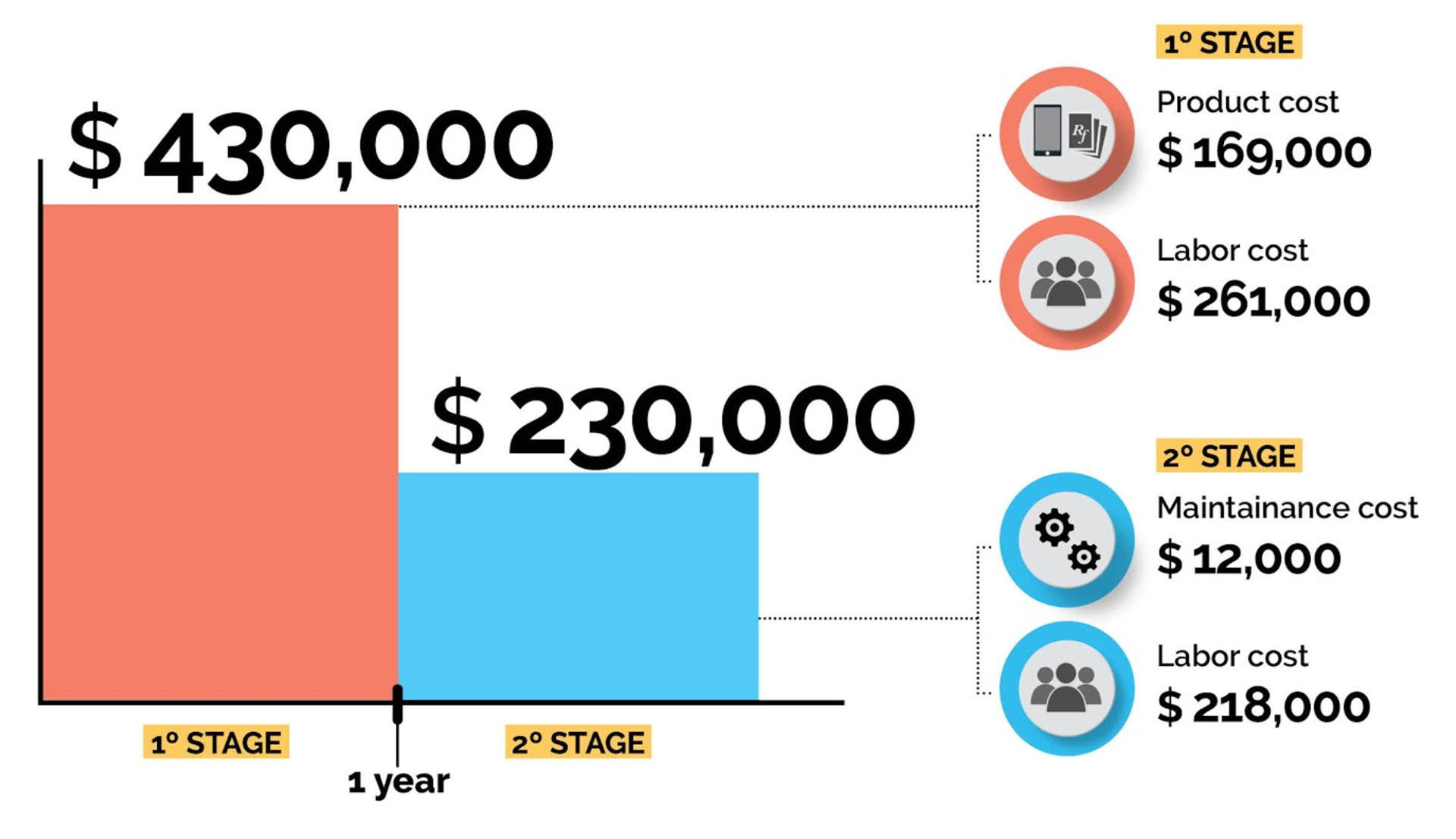 • Visual design of the app;
• Designing the a medium fidelity prototype of the app to test with users.
This project was made in collaboration with Abhinav Sircar, Kinza Kasher, and Rachel Balma. For this project, we were sponsored by Doblin Innovation and were mentored by Aashika Jain, Design Researcher and Strategist, and advised by instructors Roger Mader (Ampersand) and Criswell Lapin (Scrollmotion) as part of the Design for Strategic Innovation class at SVA.
Categories:
Strategic Innovation in Product & Service Design
Role:
User and desk research, Concept, User flow, Interaction, Visual Design (Pitch Presentation), Concept and Storyboard Video.
Animation:
Abhinav Sircar and Kinza hasher